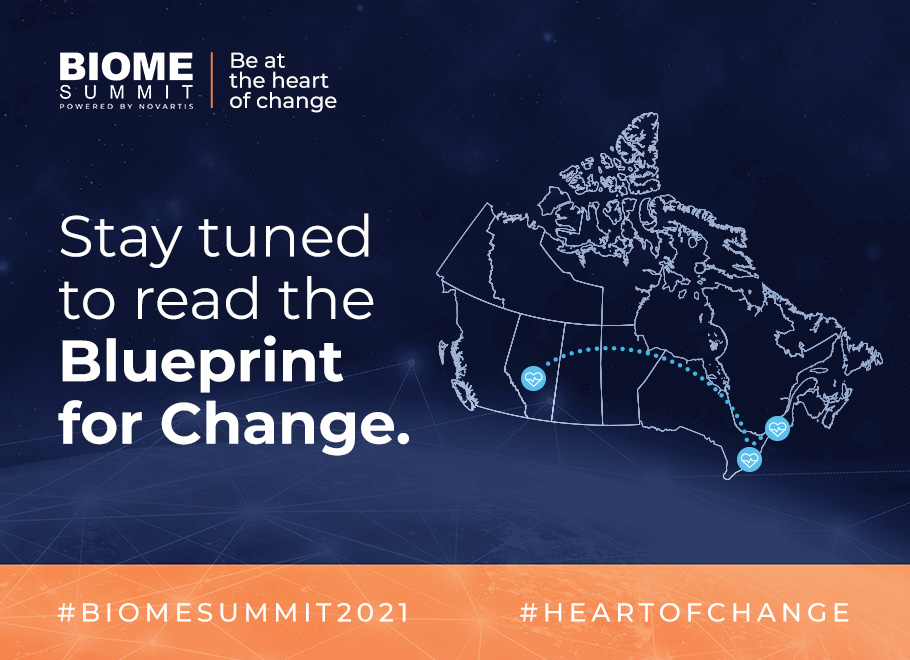 BIOME CVD SUMMIT – Be at the heart of change
In the fall of 2021, the Biome CVD Summit launched a movement to transform Canada's approach to cardiovascular disease healthcare. The groundbreaking, nationwide tour is now over, but its impact is just beginning.
Stay tuned for the Biome CVD Summit 2021 Blueprint for Change, a compendium of insights and innovative solutions that emerged from sessions at the Summit, coming soon.
Driving healthcare forward
Cardiovascular disease - CVD - is an enormous challenge for patients, caregivers and the Canadian healthcare system. An interdisciplinary movement is forming to catalyze long-term, transformational change in CVD across Canada. It combines insights from diverse stakeholders - because a challenge as complex as CVD demands multiple perspectives and creative, collaborative solutions.
Every five minutes, another Canadian dies from heart conditions, stroke or vascular cognitive impairment.¹
As the second leading cause of preventable premature death in Canada, heart disease will claim a life in the few minutes you spend brewing your morning coffee or reading this website. Together we can solve this.
A convening of change makers
A multi-city summit centres collaboration, innovation and transformation, with powerful keynotes, expert roundtables, masterclasses, community sessions, an innovation challenge and more.
Let's give Canadians more time to make memories
It's time to ideate, co-create and build the future of Canadian cardiovascular care. Join a multi-industry collaboration focused on real change.
The Biome CVD Summit
Healthcare is a high-stakes, complex industry, so evolution within this framework can be challenging. Enter disruption by design: the Biome, powered by Novartis, an initiative to accelerate life-changing advances in care through high-level, cross-sector collaboration. The Biome CVD Summit convenes in the fall of 2021 to advance progress on cardiovascular disease, a major Canadian public health challenge.
Engaging stakeholders nationwide
Expert roundtables and virtual community sessions in Edmonton and Toronto build to a hybrid in-person/virtual summit in Montréal. By speaking to and drawing insights from unique regional strengths, concerns and culture, the Biome CVD Summit creates a nationwide movement for change.
Addressing burning questions in CVD care
The Summit tackles the big questions with the highest potential impact for patients, people at risk for CVD and the healthcare system as a whole. Questions like: How can we empower at-risk individuals to adopt healthier habits and prevent illness before it starts? What might we do to proactively and equitably reduce CVD risk factors across populations? How can we forge effective public-private partnerships to combat CVD?
Hybrid virtual + physical summit
Expert roundtables foster high-level collaboration across industries. Panels, interviews, talks and workshops create spaces for broadening and deepening dialogue. An innovation challenge sparks new projects dedicated to reducing CVD mortality.
Evolving the conversation
Multilayered challenges like cardiovascular disease in Canada demand bold, long-range thinking and visionary solutions. To drive change, we need to move the conversation forward by distilling a set of essential questions around Canadian CVD care. From there, we can explore the interconnectivity of these questions and dive deep into branching lines of inquiry. From this foundation we will more clearly see what action is needed to create the greatest impact.
Co-create
Join forces with thought leaders, researchers, students and other creative problem solvers from the healthcare industry, tech startups and beyond to create forward-thinking solutions to CVD across Canada.
Innovate
Draw on the deep knowledge and diverse perspectives of your peers across industries, as well as the collaborative energy of the Biome, to tackle long-standing problems in new ways.
Transform
Help create seamless, scalable, technologically enhanced care systems that embrace, empower and support patients through every stage of their experience, from early warning signs and prevention strategies to diagnosis and chronic disease management.
Stay tuned to read the Blueprint for Change
Stay tuned for the Biome CVD Summit 2021 Blueprint for Change, a compendium of insights and innovative solutions that emerged from sessions at the Summit, coming soon.